If you pay attention, your house can give you many signs when something's not right. And a home's windows are especially communicative when they need to be repaired or replaced. 
There are two major factors that drive this decision: age of the home and severity of the failure. Let's look at the big picture of repairing versus replacing.
Big Picture: Repairing vs. Replacing Windows
Windows in older homes are the windows that should be replaced, NOT a 10-year-old house. 
The claims made by window replacement companies about energy efficiency and saving money on energy bills are based on turn-of-century homes with single pane glass and no weatherstripping. These promises of improved efficiently are over-exaggerated for what the industry would consider "modern-day" window technology, such as those in homes built after around 1980.
When it comes to the construction of the window, little has changed in 40 years. While glass technology has certainly come a long way, the general construction of the typical wood window hasn't improved much at all. This means for homes built in the last 30-40 years, you should consider sash replacement and/or repair as the glass itself can still be brought up to current technology standards while tearing out and replacing the entire frame doesn't gain much at all. A whole brand new window won't provide more benefits than you already have, except for the feeling of "getting new stuff."
However, besides enjoying the feeling of buying new windows, there are other, legitimate reasons to replace your windows entirely. One reason is building codes. Especially in places such as coastal areas, if you update your exterior, you are required to bring your windows up to the newest code as well, which may necessitate replacing your windows. 
Another is frame rot. Sometimes the frame has been so damaged that even the interior structure of the wall has been compromised. At that point, replacement is your only option.
However, repair is a far more reasonable and cost-effective option for most homeowners when professionals and superior products are utilized. There are few window failures that a repair method can not correct, such as foggy glass, rotten sashes, broken hardware, worn weatherstrips, minor frame rot, hail damage, better glass technology and more.
All of the most common window issues just listed can be corrected using quality repair kits from a quality company. Plus, sash replacement takes about 20 minutes apiece. Whole houses can typically be switched out in 2 days or less for a 70-80% savings, and you don't have to worry about holes in the side of your house for several days when your replacement windows get delayed.
Here is a list of different conditions in which you may find your windows, and advice on how to know when you should repair or replace your windows: 
1. REPAIR
or
REPLACE: If your windows are damaged, warped, or broken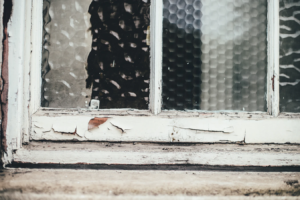 If your windows only have some superficial damage, you may be able to get away with adding new weather-stripping or hardware. If this is the case, then repair is your best option. If the window sash or frame is damaged, warped, or broken, then replacement is often preferred to repair.
If your windows show other symptoms, such as fogging up, feeling drafty, sticking when you try to open or close them or refusing to stay open, then it is time to replace your windows.
2. REPLACE: If your windows are costing you too much on your energy bill 
According to the Department of Energy, "Heat gain and heat loss through windows are responsible for 25%–30% of residential heating and cooling energy use." If you want to reduce unnecessary energy costs, replace your drafty windows with energy-efficient ones. 
Plus, if you're considering putting your home up for sale in the future, those new windows, and the resulting energy cost savings, can be a big selling point.
To find the windows that are right for your home, keep your specific needs in mind as you explore all your options:
Casement Windows
If you want to keep true to the original design of your home, you'll need to find the right casement window. This could prove difficult as many older model windows are no longer created. Instead, try a replica casement, such as Fenster's QuickSash Replica Casement.
The Fenster Quiksash is a complete, assembled replacement sash with new lowE glass, cladding, and weather-strip for a painted or clad-wood casement or awning style window.
Double Hung Replacement Windows
If you have a double hung window in an older style, you may run into the same issue as casement windows. Older style windows are no longer made and replacements are hard to come by. 
However, Fenster has a QuickSash for double hung windows as well. Also known as a "sash-pack," it is designed to fit nearly any brand of painted or clad-wood tilt-in window with existing vinyl compression jamb liners. The kit comes with everything you need for a complete assembled double hung sash, with an upper/lower sash set and new balance kit measured for your opening.
3. REPLACE: If your home needs a makeover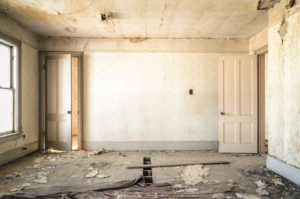 If your windows are aging with your home, or you are already renovating or upgrading the appearance of your home, then chances are, your windows need replacing. 
Nothing sticks out like a sore thumb more than mismatched windows on a renovated home. Upgrading your windows along with your other renovations enhances the overall appearance of your whole home, increasing property values and completing appealing aesthetics. 
If the color is fading or window material is warping, then it's time to replace your windows. If you are replacing your windows, take advantage of changing the type of window you have, from a fixed sash to a window that opens, to improve airflow through your home. 
For a more modern look, you may consider installing larger windows to brighten your home with natural light.
4. REPLACE: You just survived a severe storm
If you live in a hurricane zone or area prone to severe weather events, you are likely prepared for the possibility of damaged windows. In fact, just living near a coast can do a number on your windows, even without the help of a major weather event. 
If you worry about the effects of sea salt, humidity or coastal winds, consider getting higher quality window casements.
Fenster's Quiksash Clad/Wood Casement Sashes are guaranteed to work and perform at a much higher level than the original window by deleting engineering flaws like boot glazing and exterior glazing stops. 
These windows are made with a material that expands at the same rate as glass. They are engineered with this material to resist corrosion and withstand extreme temperatures. Quiksash is an after-market sash replication of many older major brands that are no longer available and is guaranteed to exceed like, kind and quality requirements of the insurance industry.
If your older windows have been damaged due to hail, request a quote for Quiksash.
5. REPAIR: If you're renovating a historic home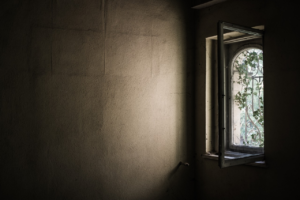 The wrong window can dramatically change the overall look of a historic home and can even interfere with its integrity. Homeowners often worry that the sash will look too modern. However, there are options to repair your windows while protecting the charm of a historic home. 
Windows help define your home's look and can be an important architectural detail. Replacing windows, especially ones with stained or leaded glass or decorative wood grilles, can actually lower the house's value. 
If you need stained glass or other historic components not offered by companies such as Fenster, talk to your local preservation commission. They may provide guidelines and suggest skilled craftsmen and contractors who can do repairs.
5. REPAIR: If you have rot and jammed sashes
You should inspect your windows for signs of decay or water damage after every major storm, especially if you have older windows. If you see signs of water penetration, then repair your windows to prevent rot. 
Or if you notice your sashes starting to stick, you'll need to repair them as well. A pro will be able to repair rot, jammed sashes and broken parts. But sometimes you can do the work yourself. Check out a reputable company for advice on how to do repairs yourself and get the parts you need.
Looking to repair or replace your windows?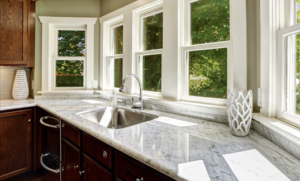 If you want to get the best repair and replacement kits for your windows, make sure to pick a company that has extensive knowledge of the industry and products. Experts like Fenster Components understand window construction, manufacturing techniques, brand history and industry terms to build and install a custom-designed window sash. 
Check out our product lines to find the right parts for your home's window. Or for more information or help, contact us by email at sales@fensterUSA.com.