After-market Sealrite Windows clad sash now available!  Fenster is pleased to announce the latest addition to our Quiksash line of after-market clad wood replacement sashes.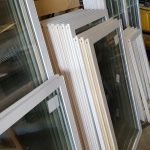 Sealrite windows were made in a way that makes replacing the glass impossible.  How convenient!  For them, not for you.  Not since they are out of business!
Fenster now has an after-market, direct fit clad wood replacement sash to fit a sealrite window frame.  Our Quiksash line features solid pine wood with stainable/paintable interiors, lowE standard, or high performance lowE glass, and metal clad exteriors in three standard colors, or custom color match on minimum order quantities.
Do you have Sealrite Windows?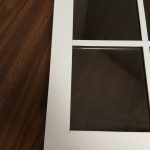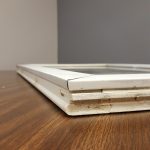 Many clad wood windows look similar from the exterior.  Exactly why the Fenster Quiksash blends perfectly with many brands.  Sealrite Windows have a couple unique features to help identify them.  The vertical edge, or stile of the sash has a prominent rounded interior edge as seen in the photo above.  Also, the top and bottom of the sash, called the rail, has a pronounced rib that sticks out from the edge, also seen in the photo.
Fenster Quiksash is a simple and cost effective way to solve glass seal failure and hail damaged sealrite windows when compared to a full replacement window.  You now have options to repair only damaged windows with a direct fit after-market product avoiding a high priced full replacement or the disappointing switch to vinyl.
Looking for another brand?  We can help.  We currently have 12 Quiksash models available including Caradco, Rockwell, Pozzi, Norco, SNE, Windsor, and others.
We can still help, even if we currently don't have your brand!  We can engineer a Quiksash model for practically any brand of clad casement sash with roll form clad exterior and guarantee the same fit, form and function of the original sash.  In most cases, our new Quiksash is better constructed with higher energy efficiency than your original window!
Hail Damage?  Seal Failure?  Wood Rot?  Look no further than Fenster Components for your sealrite windows, or many other brands of clad wood replacement sash.  Inquire today at www.fensterusa.com or sales@fensterusa.com