Have a casement window sash replacement or repair project? Removing a casement sash for repair or replacement can be simple with these easy steps.
Stationary Sashes
There are several methods to securing stationary sashes, depending on the manufacturer.
1.  There could be visible screws through the edge of the sash frame or the molding around the perimeter of the sash on the inside.
2.  There could be hidden brackets behind the perimeter molding, in which case the molding has to be removed.
3.  Worse case, the sash was nailed or stapled in through the jamb at the factory. In this case, the only way to remove the sash is to find the staples around the sash and break or cut them.
Operable Sashes
Most major manufacturers all use the same brand/style of hardware made by Truth. In general, the following steps will help you remove an operable casement sash.
1.  With the sash open, line up the end of the long arm of the operator with the arrow on the sash track. Push down on the arm to release the roller.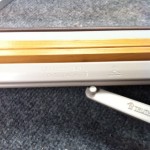 2.  Release the small arm of the operator from the post by prying up on the end of the arm.  If your hardware has a slip pin instead, slide the pin back away from the post to release.
3.  Retract the operator back to the closed position to remove the sash from the hinges.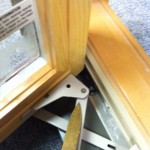 4.  Release both the top and bottom hinge arm from the hinge post by prying up on the arm at the post, or by sliding back the slip clip.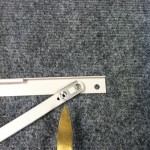 5.  Slide the sash over to the opening in the hinge track to expose the hinge slider. Once the slider has been removed from the hinge track, the sash will be loose.  Be sure you are ready to bear the weight of the sash at this time.