We now have a clad sash option in our Quiksash line of products to fit a Biltbest clad window.  The Fenster Quiksash is a re-engineered version of the original brand's sash altered to receive our proprietary aluminum cladding profiles.  All Quiksash models  including the Biltbest clad sash, are similar in design and appearance from the exterior, bringing consistency to the product.  However, all Quiksash models maintain design elements from the original profile guaranteeing a perfect fit and function in the existing window frame.  Utilizing current glass technology, your window's energy efficiency can be significantly upgraded and still keep the original look without replacing the whole window.  A Fenster Quiksash is also a cost-effective solution for hail damage.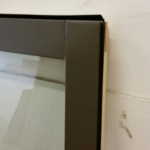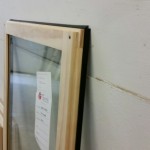 Click the photo to enlarge.  Our cladding nearly snapped onto the original profile with little alteration the lay-person would ever notice.  The Quiksash model should install effortlessly into the original Biltbest clad window frame.
Fenster Quiksash models come in 4 industry standard colors, with custom colors available for orders of 10 or more.
Order your Fenster Quiksash Biltbest clad window replica today at www.fensterUSA.com